Arizona left searching for answers at quarterback – 247Sports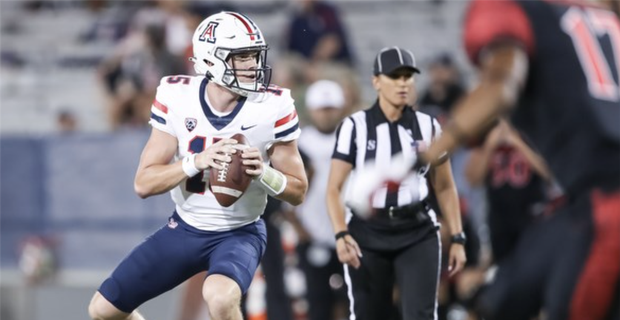 Arizona played both Gunner Cruz and Will Plummer at quarterback on Saturday night and after the game, Arizona head coach Jedd Fisch was no closer to figuring out which one was the answer behind center.
"I don't know," Fisch said when asked about next week's starter. "I'm not sure. We will look at the tape and figure it out, but right now I am completely unsure what we are going to do with the quarterback position. One of the two of them will start. I know that."
Cruz finished the game 10-19 for 70 yards and one touchdown and one interception.
"I took Gunner out for a few reasons," Fisch said. "I didn't just take Gunner out because we weren't moving the ball. Donovan Laie got hurt and Jordan Morgan got taken out of the game. We didn't have our left guard and we didn't have our left tackle.
"The game was a littler bit out of hand, but not completely I felt. He was getting hit pretty good back there and we weren't doing a good enough job of helping him."
Fisch decided to put Plummer into the game and he threw a 54-yard touchdown to Tayvian Cunningham, but also struggled with down recognition and was 8-17.
"I wanted to see if we could get a spark and change it up a bit with a different dynamic with Will," Fisch said. "He came in and he came in slinging and I appreciate that.
"He made a great red zone throw for a touchdown to Tayvian. We will have to look at the two quarterbacks and see which one gives us the best chance."
At no point did Fisch consider benching Cruz in the first half as the conversation mostly happened at halftime.
"I felt there was a lot of things that were causing us not to move the ball and putting it on the quarterback's shoulders wasn't the right thing to do at that time," he said. "Obviously you are always going to see if there is something we can do better, but before I want to whole heartedly blame a player, I wanted to make sure I was putting him in the best possible position. At halftime we talked about making a change. I wanted to see if we could start with a touchdown drive, but we went three and out."
The most impressive aspect of Plummer's performance may have been his overall demeanor.
"I think what Will did was competed," Fisch said. "He came in and didn't worry about the scoreboard and played hard like we asked our team to do. I think we probably had six or seven three and outs on defense too. They kept competing and they kept fighting and Will did the same thing.
"Will came in and said the score is the score and I am going to come in and try to make plays and do what i am supposed to do and play the position the way I have been coached to play it.
"Will has a chance to be a good player for us, as does Gunner. I was excited about the play he made to Tayvian. He stood back there and he's got some moxie to him. Both quarterbacks will probably play next week."